Concrete jungle: Merging Gun Metal and Cement for A Cutting-Edge Bathroom Style
Unleashing Industrial Elegance
It's Monday which means only one thing – another Bathroom Moodboard to inspire you all for your Bathroom Renovation!
The INSPO BEHIND THE MOODBOARD
We've taken inspo once again from our July 2023 Brochure cover! This edition features a raw industrial blend of natural materials and textures to create a unique bathroom design.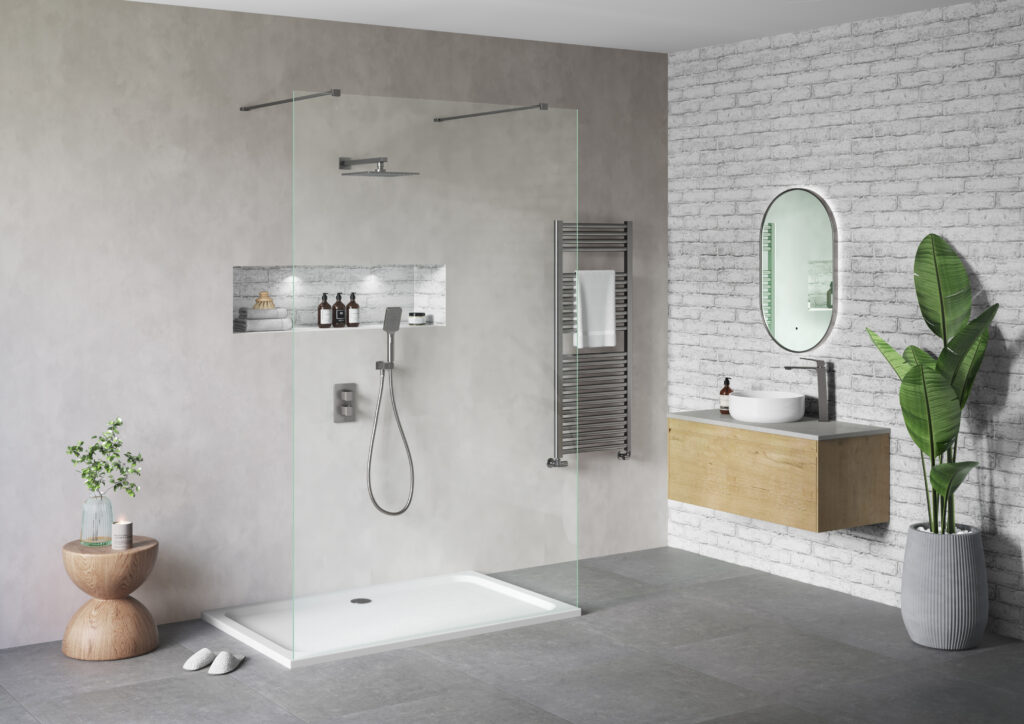 Here's how to get the look
Start by incorporating gun metal fixtures and accents to set the foundation of your bathroom design.
To complete the gun metal theme in the showering area we've chosen from our Emmi Wetroom range to create a double entry statement showering area complete with gun metal bracing bars, and not forgetting the matching gun metal shower waste cover!
And finally to complete the look we've went for our Finn 50 LED Mirror Gun Metal.
This beautiful mirror comes jam packed with all our LED Mirror features, now in this fab finish!
Embrace the raw beauty of cement by incorporating it into various aspects of your bathroom design. The rough and textured surface of cement creates a striking contrast against the smoothness of gun metal fixtures, adding an industrial touch to the space.
Softening the industrial vibe with natural touches can create a harmonious balance. Introduce elements such as potted plants, natural wood accents, or even stone-textured tiles to infuse warmth and a sense of tranquility into the space. Our Oak Hampton Vanity unit with light cement worktop is the perfect choice!
These natural elements create a pleasing contrast against the cool tones of gun metal and cement.
Embracing Gun Metal and Cement for a Contemporary Bathroom Design
The fusion of gun metal and cement in bathroom design creates a visually captivating and edgy space. By blending the sleekness of gun metal fixtures with the raw texture of cement surfaces, you can achieve an industrial fusion that exudes modern sophistication. Follow the inspiration from our curated moodboard, incorporating minimalist design elements, harmonious color palettes, and organic touches to create a truly unique and stylish gun metal and cement bathroom that reflects your personal style.